Meet Our Pomskies​

Griffin

Griffin could be on his way to being the smallest F3 ​husky marked silver and white Pomsky to date. He is currently 5 months old and 3 1/2 lbs. We are expecting him to maybe hit 5-6lbs at full maturity. We have yet to see an F3 Pomsky marked the way he is with his size, markings and color. 

Not only is he extremely small but he has a super awesome, outgoing disposition. He loves other dogs (big and small), is very friendly to strangers and adores kids.

Griffin will be a future stud dog for us and select outside females. He has already had a genetic panel done and is cleared from carrying over 180 genetic conditions. Along with that, he has been color tested and has a perfect color panel to pair with just about any female to create the ultimate Pomsky. 

Griffin will allow us to raise toy 50/50 Pomskies staying under 10lbs as well as raising very tiny 75/25 Pomskies since he is smaller than our Pomeranians. This means we will have even more desirable husky looks but in an even smaller package! 
Being an F3 Pomsky Griffin is considered a third generation. He was made from the parents of the original Husky x Pomeranian cross which created an F1 Pomsky and those F1 Pomskies were bred to create F2 Pomskies and those F2 Pomskies were  bred to create Griffin, an F3 Pomsky. Years of planning and preperation went into creating him and in our opinion he is one of the best Pomskies ever made. 
We cannot wait to have his offspring apart of our program and further develop the Pomsky breed.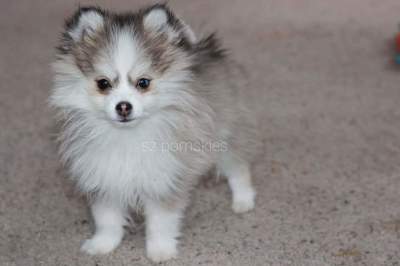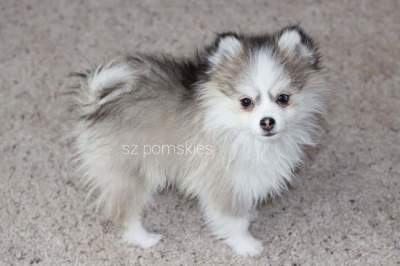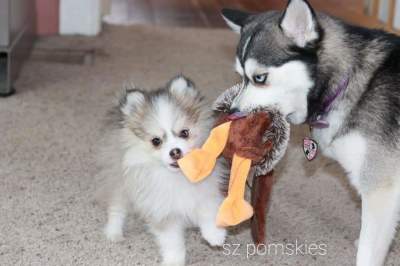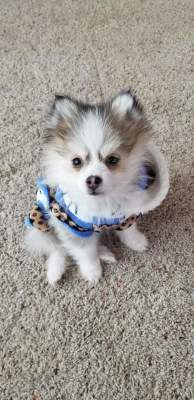 Aurora

We purchased Aurora from an amazing Pomsky breeder in Kentucky who has come to truly perfect the looks of what a Pomsky should be. Her hard work, careful planning and ability to think outside the box shows in this amazing Pomsky! 

We had searched for quite a long time to find the perfect female for our program. Our focus has always been F1s but we were looking for the perfect outside female to add and develop an F2 line. Finally... we found it in Aurora!

Aurora is everything we wanted to add into our program. Her amazing coat, perfect mask and incredible dispostion should cross extremely well with our already established program of F1 Pomskies and AKC Pomeranians. 

Aurora is  a 50/25/25 split meaning she is 50%  Siberian Husky, 25% Pomeranian and 25% American Eskimo. In order for a breed to develop and work towards a complete "standard" more than two breeds must be added. The International Pomsky Associaiton accepts German Spitz, Klein and American Eskimo Crosses to further enhance and develop the Pomsky. 

Aurora is 15 inches and 25lbs. She has an incredible wooly coat, perfect mask and a dispostion you cannot beat. 

​Her recall is on point every time and she loves everything and anything. 

​Aurora has already been marked clear of MDR1 and Exercise Induced Trachea Collapse. She will also be tested clear of 150 genetic diseases and complete standard OFA and Cerf testing prior to breeding. 

Thank you again Mary for allowing Aurora to be apart of the SZ Program!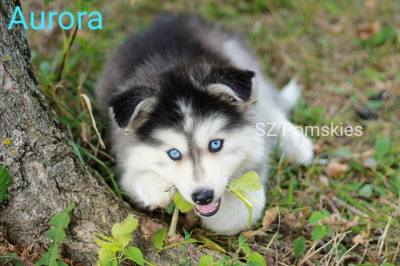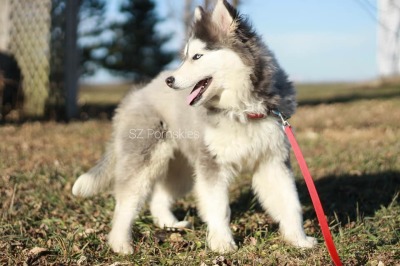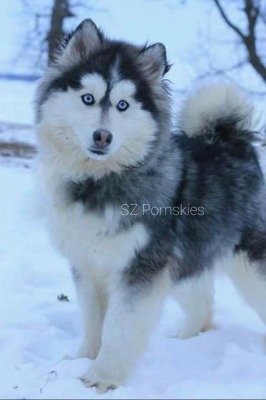 Raven

WINNER OF THE 2018 BEST CROSSBRED IN SHOW BY THE INTERNATIONAL POMSKY ASSOCIATION
Raven was bred and raised by us at SZ Pomskies. She is a stunning F1 Pomsky with perfect markings and blue eyes. 

​She will be a future breeding mama for  F2 and F1b litters as long as all health tests are clear. 

​Raven is clear by parentage to be free from carrying over 150 genetic diseases. ​

Raven's parents both have some of the best dispositions out of any dogs we own. They are extremely affectionate and want to be with you at all times. 

Raven shows what our program will be in the future. We are working hard to create more like her. 

Raven is 10.2 lbs full grown. 

Raven is by far one of, if not the best Pomsky we have raised. Her sturucture, size, build and amazing personaility shows that hard work pays off. She is bold and intelligent, loving and loyal. She greets everyone with a kiss and sits politley for a treat and a back scratch. Raven is currently 10.2 lbs at 9 months old. We love her dearly and look forward to making more just like her. 

Raven loves to take trips to places to work on public access training kills such as Menards, Lowes, Home Depot, Tractor Supply, Bass Pro, Sportsmans and MORE. Whenever she goes to a public area people flock to her and she loves it! She is not shy at all and jumps into strangers arms. Raven loves to be held on her back and carried like a baby. She will do anything for a treat! She loves to please and is so smart! She already knows sit, down, shake, hi-five, roll over and is house trained and crate trained. She loves car rides and to travel to new places. Raven is shows exactly what we strive to achieve in our lines. She is everything and more and we are so proud to say we bred and raised her here at SZ Pomskies. 
We will post MANY updates of Raven as she grows on our Facebook Page: Pomskies of Iowa - SZ Rolling Acres LLC. Be sure to "like" and "follow" us for more updates on her and all of our Pomskies!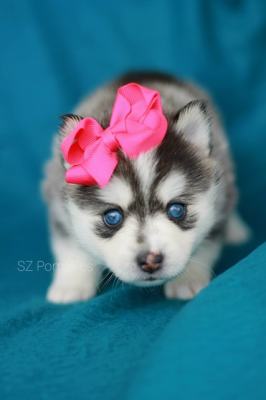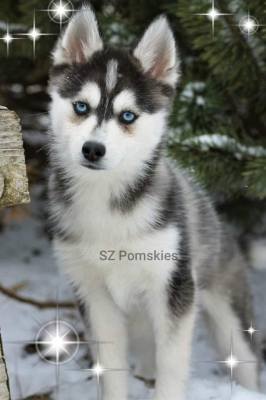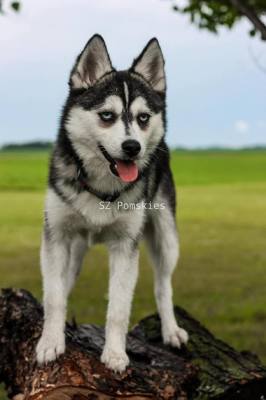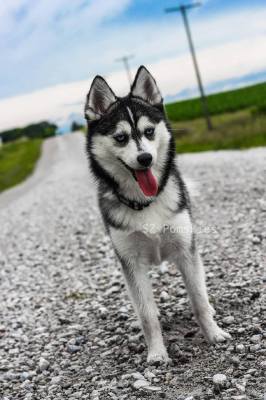 Luxe

We purchased Luxe from a wonderful breeder in southeastern Iowa. She is by far one of the most striking Pomskies we have ever laid eyes on. The breeder himself said she is the best Pomsky they have ever produced. Her looks, color, coat and dispostion are truly perfect. 

Luxe is currently 8 months and weighs 10lbs. She should mature around 12bs full grown. She has a wooly coat that is silver in color which are two things that don't come around very often. She has a true husky mask and beautiful blue eyes with one little brown chip in the right one. 

Luxe is super friendly, loves everyone and just wants to be the center of attention. Our hope for Luxe is to get her to earn her Canine Good Citizen and then move on to her Therapy Dog Certification so we can take her to nursing homes and hospitals to spread her infectious personailty and love to people who need an extra smile in their lives. 

Luxe will be used for F2 and F1b Pomskies in the future. We hope to pair her with a male who looks very similar to her in looks and size so we can try to duplicate her perfection. 

Like and follow our Facebook Page to follow more updates on Luxe as she grows.